Ever since I saw the movie "Indochine," I've wanted to visit Ha Long Bay. I loved the haunting scenes where Camille and Jean Baptiste, her beloved French soldier (originally her adoptive mother's lover - it's a French film after all) float through the islands in a small junk. Camille's just killed a French soldier, they're fleeing the French army, and they're without food or water and are barely conscious, but it's all terribly romantic, like they are the last two people on earth, together at last.

My Ha Long Bay journey was not exactly cut from the same cloth. I was about 60 years too late for the sexy French soldiers. I took a package tour on a junk like everyone else, since it's the easiest and cheapest way to see Ha Long Bay from Hanoi. After researching a few companies
and reading lots of stories on-line about nightmare trips, I booked a 3 day/2 night trip with Active Travel Vietnam.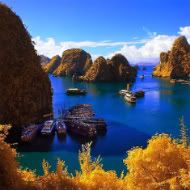 Cruise on Halong Bay

The first leg of the journey was a 3 hour bus ride through the North Vietnamese countryside where highly industrial meets pre-industrial. After we left the urban sprawl of Hanoi, the road was lined with giant factory complexes. Our guide proudly pointed them out as examples of recent foreign investment. In between the factories, in between the houses, and seemingly in every available scrap of land are the green, green rice fields. Huge power lines tower over them, factories abut them, towns surround them, but the rice fields do not yield. Vietnam is the second biggest exporter of rice (next to Thailand), and that's after the immense amounts of rice consumed by a domestic market of 85 million people. It's a lot of rice.

And on this freezing cold, drizzling day the fields were filled with farmers bent over, tending to the plants, thigh-high in cold water and mud, both men and women, wearing conical hats and flimsy plastic ponchos as protection against the rain. All throughout my travels in Vietnam, rice fields were everywhere, filled with farmers doing the back-breaking work of tending to the crops manually. On the way back, we saw a bus that had catapulted off the road into a rice field (at this point, our guide explained that buses in Vietnam are called "flying coffins").

We reached Ha Long City, a pretty unattractive place filled with many hotels. Our guide explained the difference between European and Asian tourists: the European tourists like to sleep on the boats in the bay, while the Asian tourists like to take day trips and come back to town to do karaoke, gamble, shop and party. The port is jam-packed with tourist junks – there are literally hundreds of them jostling for space at the landing, stacked 5 or 6 deep, and even more anchored off shore. Tour guides herded groups of tourists bundled up in scarves and raincoats from mini-buses to boats.




Wow!Halong Bay,Vietnam

We boarded our boat, and as we were pulling out of the harbor, I received my first surprise of the trip. I went to ask the guide about the train ticket the travel agency was supposed to book for me, and instead he told me, "Um, you signed up for the 3 day trip, but actually, you can only do a 2 day trip…"

Supposedly some people had cancelled, and since I was only one person, it was impossible to do the 3 day trip, but they would refund my money and here was the itinerary for the 2 day trip. I expressed disappointment, regret, outrage, but ultimately, considering that they had waited to tell me until I was on the boat that was chugging out of the harbor, there was nothing I could do but accept the refund and resign myself to the change in schedule. In the end, considering the weather was so miserable, it wasn't such a tragedy.

We were seven in the group. There was a French Swiss couple who spoke little English and kept explaining how they'd spent 10 days in the far North where it had been very cold and there was no heat anywhere. They were clearly tired of being cold. Then there were the Aussies: a mother and daughter pair from Alice Springs, and two thirty-something women from Sydney, who were a lot of fun.

After crossing the bay, we glided into the limestone karst forest that is Ha Long Bay – a green sea crowned by thousands of oddly shaped limestone islands, like the tops of mountains sticking out of the sea. They're uninhabitable, all sloping sides and stone, so people live on boats and in floating houses. They were cloaked in mist on this cold, grey day and there were islands as far as the eye could see. In some of the narrower passages it was as though we were in a canyon of green and stone. It was quite beautiful. I went up on the "sundeck" (I wasn't to see sun for another 2 weeks) to take photos, but the rain soon chased me inside.

It was gorgeous, but the weather was lousy. We tried to make the best of it, and six of us bravely set off in the cold drizzle to go kayaking. Our bottoms were soon soaked and frozen, and the legs and arms were next. Still, it was quite something to be so close to the water, the karst islands towering above us. Our guide led us through a small archway into a lagoon that lies in the center of an island. For a moment, it was as though we were the only people in Ha Long Bay, drifting through the mist.




Kayaking with Active Travel Vietnam

But this feeling was not to last. We headed toward TiTop Island (named in honor of a Soviet astronaut who visited with Ho Chi Minh), where you can climb up to the top and get a panoramic view of the bay. According to the postcards on sale, it's quite a view on a clear day. We pulled our kayaks up on the beach. Looking around, we realized that we were the only people who looked like drowned rats. All the other visitors had arrived on very solid looking wooden launches, looked quite neat, tidy and dry. Some of the tour groups even wore matching hats and jackets.

Between the six of us, we sported bare feet, plastic ponchos, the white plastic shower sandals that are standard issue in every Vietnamese hotel, dripping wet shorts, and men's thermal underwear bottoms (that was me). We were also very wet. And lest I forget, we wore lovely bright orange life jackets (for extra warmth). Not bothering to take off the lifejackets, we made our way up the stairs as the impeccably groomed groups moved to the side and pointed and stared at us. We were clearly the comic relief for the afternoon, and as we ascended, one of us overheard someone say "Aussies for sure." As the only non-Aussie in the group, I took it as a compliment.

After we returned to the boat and had very short, semi-hot showers, we discovered the main event of the evening: Vietnamese soap operas. Our guide had told us that dinner would be at 6.30. We all arrived early and sat expectantly at our tables. 6.30 came and went, and nothing happened. Instead, the entire crew – all male, mostly quite young – sat transfixed in front of the TV that sat over the bar. No one was going anywhere, and nothing was happening in the kitchen. I sat there, hungry and cold, trying to write in my journal, with my back to the TV, until I finally gave up, turned around and started asking questions.

It turned out that it was the equivalent of the season finale, a sacred event not to be interrupted by banal activities like feeding the tourists. The heroine was running away from her arranged wedding to the grave of her dead lover, while flashbacks to happier days played. Just as the man she was supposed to marry showed up to reclaim her, the ghost of her lover flew up from the grave and swooped her into the underworld, leaving only flowers and smoke. It was far more dramatic than I describe here, but the best part was watching these young Vietnamese men completely absorbed in this romantic doomed love drama, which oddly mirrored (in a same, same but different kind of way) the romance story that brought me to Ha Long Bay in the first place. I just hadn't expected to find it on TV.

To more information about luxury cruise on Halong Bay, click here: http://www.indochinasails.com

Many kinds of tours on Halong Bay: Active Travel Vietnam ; #31, Alley 4, Dang Van Ngu street, Hanoi, Vietnam. Phone:(84-4) 3573 8569